1. Exploring Chicago's Iconic Skydeck
Chicago, the "Windy City," is renowned for its iconic skyline, and there's no better way to experience it than from the thrilling heights of the Skydeck. Offering breathtaking views of the city and beyond, this attraction is a must-visit for adventure seekers and those looking to unleash their daring side.
1. Rise above the clouds
Ascend to the 103rd floor of the Willis Tower, formerly known as the Sears Tower, where the Skydeck is located. As you step onto the glass-floored balcony known as "The Ledge," you'll find yourself suspended 1,353 feet above the ground. It's an exhilarating experience that will make your heart race and leave you awe-inspired by the panoramic vistas below.
2. Capture Instagram-worthy moments
The Skydeck offers photo opportunities that will make your social media followers envious. Pose against the breathtaking backdrop of the Chicago skyline, Lake Michigan, and the surrounding urban landscape. The glass walls and floors of the observation deck provide the perfect frame for creating stunning, unique photographs that will forever capture your adventurous spirit.
3. Discover Chicago's rich history
While taking in the awe-inspiring views, delve into Chicago's rich history through interactive exhibits. Learn about the city's architectural feats, influential figures, and significant events that have shaped its identity. With multimedia displays and informative panels, the Skydeck offers a captivating journey through time, allowing you to deepen your understanding of the city's vibrant past.
4. Experience the thrill of "Ledge"
The highlight of the Skydeck experience is undoubtedly stepping onto "The Ledge." This glass box extends out from the building's facade, giving you the sensation of walking on air. Feel the adrenaline rush as you stand directly above the bustling city streets and peer through the transparent floor to glimpse the world far below. It's a spine-tingling moment that will make you appreciate the wonders of engineering and your own courage.
5. Tips for an unforgettable visit
Arrive early to beat the crowds and have more time to explore and fully enjoy the experience.
Don't forget to bring your camera or smartphone to capture the awe-inspiring views and unforgettable moments.
Consider visiting during the late afternoon or evening to witness Chicago's stunning skyline illuminated by the city lights.
Check the weather forecast beforehand, as cloud cover or inclement conditions may affect visibility.
2. Experiencing the Thrills of Navy Pier
Navy Pier, located along the stunning shoreline of Lake Michigan, is a must-visit destination for adventure enthusiasts in Chicago. This iconic landmark has been attracting locals and tourists alike for decades, offering a thrilling array of experiences that are sure to get your adrenaline pumping. So, tighten your seatbelts and get ready for an adventure like no other!
1. Sky-high Excitement at the Centennial Wheel
As you step onto Navy Pier, you'll immediately notice the magnificent Centennial Wheel towering over the landscape. This towering Ferris wheel is a true marvel of engineering, offering breathtaking panoramic views of the city skyline and the vast expanse of Lake Michigan. Each enclosed, climate-controlled gondola provides a safe and exhilarating experience, allowing you to soak in the beauty of Chicago from a unique vantage point.
2. Fast-paced Entertainment at the Chicago Children's Museum
If you're visiting Navy Pier with your little ones, the Chicago Children's Museum is not to be missed. This interactive wonderland is filled with engaging exhibits and hands-on activities that will captivate and educate children of all ages. From climbing the Tinkering Lab to experimenting with water at the Waterways exhibit, this museum offers a thrilling learning experience that sparks curiosity and creativity.
3. Water Adventure at the Pier Park
At Navy Pier's Pier Park, water lovers will find a variety of heart-pounding attractions to satisfy their adventurous spirits. Get ready for an exhilarating ride as you hop on the Wave Swinger, a spinning swing set high above the pier, providing panoramic views as you soar through the air. Or, take on the challenge of the towering Climbing Walls, testing your strength and determination as you conquer the heights.
4. Unleashing Your Inner Daredevil at the Pepsi Wave Swinger
For those seeking an adrenaline rush, the Pepsi Wave Swinger is an absolute must-try. This thrilling ride takes you on a breathtaking swing through the air, providing an unmatched sensory experience as you feel the wind rush past you. So fasten your harness, embrace the rush, and let your inner daredevil take center stage!
5. Relaxation in the Serene Polk Bros Park
After all the high-energy adventures, you may find yourself in need of a moment to unwind. Look no further than the serene oasis of Polk Bros Park, located at the entrance of Navy Pier. This lush green space offers a tranquil retreat from the excitement, providing
3. Discovering the Wonders of Millennium Park
Millennium Park is a true gem nestled in the heart of downtown Chicago. This expansive urban park offers a unique blend of art, architecture, and natural beauty that is sure to captivate your senses. Take a break from the hustle and bustle of the city and immerse yourself in the wonders that await you in Millennium Park.
1. Cloud Gate (The Bean): A Mesmerizing Reflection
At the center of Millennium Park stands Cloud Gate, affectionately known as "The Bean." This iconic sculpture, designed by artist Anish Kapoor, is a sight to behold. Its seamless, polished stainless-steel surface reflects the city's skyline and its visitors, creating a mesmerizing visual experience. Lose yourself in the distorted reflections and snap some unforgettable photos.
2. Jay Pritzker Pavilion: A Harmonious Escape
If you appreciate music and open-air concerts, then the Jay Pritzker Pavilion is a must-visit. Designed by renowned architect Frank Gehry, this outdoor concert venue boasts a soaring steel ribbon structure and a state-of-the-art sound system. Relax on the sprawling lawn, surrounded by lush greenery, as you enjoy live performances ranging from classical to contemporary.
3. Lurie Garden: A Serene Oasis
Escape into a peaceful oasis within Millennium Park at the Lurie Garden. This meticulously designed five-acre garden showcases a variety of native plants organized into distinct areas. Take a leisurely stroll along the winding paths, breathe in the fragrant blossom of the flowers, and listen to the soothing sounds of the water features. It's the perfect spot to reconnect with nature and find tranquility in the midst of the city.
4. Crown Fountain: Interactive Art at Its Finest
The Crown Fountain is an interactive masterpiece created by Spanish artist Jaume Plensa. This unique installation features two towering glass block towers that project the faces of Chicago residents, spouting water from their mouths during warmer months. Cool off by splashing in the shallow reflecting pool or simply sit back and people-watch as locals and tourists enjoy this interactive piece of art.
5. Maggie Daley Park: Fun for All Ages
Adjacent to Millennium Park, you'll find the sprawling and playful Maggie Daley Park. This family-friendly destination offers a wide array of activities for all ages. Unleash your inner child and climb the whimsical Play Garden structures, glide across the skating ribbon during winter, or conquer the challenging climbing walls. No
4. Unleashing Your Inner Artist at the Art Institute of Chicago
The Art Institute of Chicago is a haven for art lovers and creative souls alike. As you step into the magnificent building, you can feel the creative energy that permeates every corner. Whether you're an art connoisseur or simply appreciate the beauty of artistic expression, a visit to the Art Institute is a must when exploring Chicago's vibrant cultural scene.
1. A World-Class Collection (Keyword 1: Art Institute of Chicago)
The Art Institute boasts a world-class collection of artworks spanning a wide range of periods, styles, and mediums. From ancient Egyptian artifacts to famous Impressionist paintings, you'll find yourself immersed in a rich tapestry of artistic excellence. Take a leisurely stroll through the galleries and marvel at iconic masterpieces like Grant Wood's "American Gothic" or Vincent van Gogh's "The Bedroom."
2. The Modern Wing (Keyword 2: Modern Wing)
Don't miss the Modern Wing, a architectural marvel designed by renowned architect Renzo Piano. This addition to the museum offers a contemporary contrast to the classical architecture of the main building. Explore the collection of modern and contemporary art, featuring works by artists such as Andy Warhol, Georgia O'Keeffe, and Jackson Pollock. The light-filled atrium and stunning views of Millennium Park are sure to inspire your own creative pursuits.
3. Engaging Exhibitions and Special Events (Keyword 3: exhibitions, special events)
The Art Institute regularly hosts captivating exhibitions and special events that cater to a wide range of interests. From retrospectives of famous artists to themed exhibitions exploring specific topics, there's always something new and exciting to discover. Immerse yourself in thought-provoking installations, attend insightful lectures, or participate in hands-on workshops to further enhance your artistic experience.
4. A Haven for Education (Keyword 4: education)
The Art Institute is not just a museum; it's a vibrant hub of learning and education. It offers various educational programs and resources for visitors of all ages and backgrounds. Engage in guided tours led by knowledgeable docents, participate in interactive activities designed for families, or enroll in art classes to unleash your own artistic potential. The Art Institute is committed to nurturing creativity and igniting a passion for art in everyone who walks through its doors.
5. Embarking on a Foodie Adventure in Chicago's Food Scene
Chicago is known not only for its stunning architecture and vibrant culture but also for its eclectic and thriving food scene. As you explore the city, prepare yourself for a gastronomic journey like no other. Get ready to tantalize your taste buds and indulge in culinary delights that will leave you craving for more. In this section, we will dive into the vibrant food scene of Chicago and uncover some of the must-visit foodie destinations.
1. Chicago's Iconic Deep Dish Pizza
No visit to the Windy City is complete without savoring a slice of the famous deep-dish pizza. Sink your teeth into a thick, buttery crust layered with ooey-gooey cheese and topped with tangy tomato sauce. Head over to Lou Malnati's or Giordano's, two legendary establishments that have been serving this cheesy delight for decades. Don't forget to take Instagram-worthy pictures of your cheesy masterpiece to make your friends jealous!
2. Exploring the Maxwell Street Market
If you're an adventurous foodie looking to experience Chicago's diverse culinary influences, the Maxwell Street Market is a must-visit destination. This bustling open-air market offers a wide array of delectable street foods from around the world. From savory Mexican tacos and mouthwatering Polish sausages to aromatic Ethiopian stews and irresistible Caribbean jerk chicken, there's something to satisfy every craving. Take a stroll through the vibrant market and let your senses guide you towards your next flavor-filled adventure.
3. The Magnificent Mile of Magnificent Eateries
Nestled in the heart of downtown, the Magnificent Mile is not only a shopper's paradise but also a food lover's dream come true. This bustling stretch of Michigan Avenue is home to some of Chicago's most acclaimed restaurants, offering a diverse range of cuisines to please every palate. Whether you're in the mood for a sizzling steak at Gibsons Bar & Steakhouse or a gourmet French meal at Everest, the Magnificent Mile has something to satisfy even the most discerning food connoisseurs.
4. Indulge in Global Flavors at Revival Food Hall
For a culinary experience that brings together the best of Chicago's local food scene, head over to Revival Food Hall. Located in the historic National building, this vibrant food hall showcases a curated selection of the city's top chefs and their diverse culinary creations. From artisanal sandwiches and sushi rolls
6. Navigating the Shedd Aquarium's Underwater World
The Shedd Aquarium in Chicago is a must-visit for anyone who wants to dive into the enchanting and awe-inspiring world beneath the waves. With its impressive size, diverse marine life, and immersive exhibits, the Shedd Aquarium offers an unparalleled opportunity to explore the wonders of the underwater realm.
Exploring the Galleries:
As you step into the aquarium, you'll be greeted by a series of galleries that showcase different marine ecosystems. From the vibrant coral reef exhibit to the mystical Amazon Rising exhibit, each gallery provides a unique window into the underwater world. Take your time to wander through the exhibits, observing the mesmerizing array of fish, turtles, and other marine creatures. (Keywords: Shedd Aquarium, galleries, marine ecosystems, coral reef exhibit, Amazon Rising exhibit)
Engage with Interactive Displays:
The Shedd Aquarium goes beyond just passive observation. It offers a range of interactive displays that allow visitors to actively engage with the marine life and understand their habitats and behaviors better. At the touch pools, you can gently interact with sea stars, rays, and other marine invertebrates, learning about their fascinating adaptations firsthand. Don't miss the chance to catch a live animal presentation, where knowledgeable staff members share insights and answer any questions you may have. (Keywords: interactive displays, touch pools, marine invertebrates, live animal presentation)
Dive into the Oceanarium:
One of the highlights of the Shedd Aquarium is the Oceanarium, a breathtaking exhibit that transports you to the vastness of the ocean. Watch in awe as Pacific white-sided dolphins, beluga whales, and sea lions showcase their incredible agility and intelligence. Get a front-row seat to their captivating performances and learn about conservation efforts to protect these charismatic marine mammals. (Keywords: Oceanarium, Pacific white-sided dolphins, beluga whales, sea lions, conservation efforts)
Immerse Yourself in the Wild Reef:
The Wild Reef exhibit at the Shedd Aquarium is a true underwater oasis that mirrors the vibrant marine life found in the Philippine coral reefs. Step into a simulated diving experience as you witness the graceful movements of sharks, rays, and brilliantly colored reef fish. Marvel at the intricate architectural formations of the coral reefs and gain a deeper appreciation for the fragile balance of marine ecosystems. (Keywords: Wild Reef, Philippine coral reefs, sharks, rays, reef fish, coral reefs)
Take Part in Educational Programs:
For those seeking a more immersive experience, the Sh
7. Exploring Nature at Lincoln Park Zoo
If you're looking for a delightful way to spend a day immersed in nature while being surrounded by fascinating wildlife, look no further than Lincoln Park Zoo. Situated in the heart of Chicago, this urban oasis offers an enchanting experience for both locals and tourists alike. With its lush greenery, diverse animal habitats, and educational programs, visiting the Lincoln Park Zoo is an adventure that's guaranteed to leave you with unforgettable memories.
A World of Wonders (H3)
As you step into the Lincoln Park Zoo, prepare to be transported into a world of wonders. The zoo boasts a wide variety of animal species from all corners of the globe, giving you the opportunity to get up close and personal with creatures you might never encounter in your everyday life. From majestic lions and playful primates to graceful birds and slithering reptiles, the zoo's impressive collection will leave you awe-struck.
Expert Insights and Engaging Exhibits (H3)
At Lincoln Park Zoo, the experience goes beyond just watching animals. The zoo's commitment to education and research is evident in its engaging exhibits and expert insights. Knowledgeable zookeepers and educators are readily available to share fascinating facts about the animals, their behavior, and conservation efforts. You'll have a chance to learn how the zoo plays a vital role in wildlife preservation and how you can contribute to these efforts.
Don't Miss: The Regenstein Center for African Apes (H4)
One of the crown jewels of Lincoln Park Zoo is the Regenstein Center for African Apes. This state-of-the-art exhibit provides a naturalistic habitat for the zoo's chimpanzees and western lowland gorillas. As you wander through the exhibit, you'll witness these remarkable primates in their near-natural habitat, swinging from branches, engaging in social interactions, and showcasing their intelligence. It's an experience that will deepen your understanding and appreciation for these incredible creatures.
An Interactive Experience (H3)
Lincoln Park Zoo is not just a passive viewing experience; it encourages active participation. The zoo offers various interactive activities and programs designed to engage visitors of all ages. From feeding sessions and animal encounters to behind-the-scenes tours and educational workshops, there are plenty of opportunities to get involved and gain a deeper understanding of the animal kingdom.
Key Takeaway:
Exploring nature at Lincoln Park Zoo provides a captivating and educational experience for nature enthusiasts of all ages. With its diverse animal collection, engaging exhibits, and interactive
8. Embracing History at the Field Museum
If you're a history enthusiast visiting Chicago, a trip to the Field Museum is an absolute must. This renowned institution is a treasure trove of knowledge, where you can immerse yourself in fascinating exhibits that span millennia of human civilization.
1. Unveiling Ancient Cultures
Explore the Ancient Americas exhibit, where you can witness the rich and diverse cultures that thrived in the pre-Columbian era. Marvel at the intricate artifacts and learn about the beliefs, rituals, and daily lives of ancient civilizations like the Maya, Aztecs, and Inca. Discover how these societies flourished and the legacies they left behind.
2. Diving into Ancient Egypt
Transport yourself to the banks of the Nile as you delve into the mesmerizing world of ancient Egypt. The Egyptian exhibit showcases a stunning collection of mummies, hieroglyphics, and ancient tombs that offer a glimpse into the life and death rituals of the pharaohs. Unravel the mysteries of this ancient civilization and admire the enduring beauty of their art and architecture.
3. Marveling at Fossil Exhibits
Embark on a journey through time in the Evolving Planet exhibit, where you can witness the incredible diversity of life that has inhabited our planet for millions of years. From towering dinosaur skeletons to fossilized plants and insects, this exhibit showcases the wonders of evolution and the interconnectedness of all living organisms.
4. Exploring Ancient Cultures of Africa
The African exhibit at the Field Museum takes you on an immersive safari, introducing you to the rich cultural heritage of the continent. Learn about the traditions, customs, and art of various African tribes, as well as their coexistence with wildlife. Delve into the history of ancient kingdoms such as Mali, Benin, and Zimbabwe, and gain a deeper understanding of Africa's vibrant past.
5. Witnessing the Power of Nature
Prepare to be awe-inspired by the Grainger Hall of Gems, where you can witness nature's brilliance in the form of dazzling gemstones and sparkling minerals. From priceless diamonds to rare meteorites, this exhibit will ignite your curiosity about the Earth's geological marvels. Learn about the formation of these treasures and the fascinating stories behind them.
9. Unleashing Your Adventurous Side: Outdoor Activities in Chicago
Chicago, the city of endless possibilities and adrenaline-inducing adventures, offers a plethora of exciting outdoor activities for the adventure enthusiasts. Whether you're a thrill-seeker or simply looking to step out of your comfort zone, Chicago has something in store for everyone. Get ready to unleash your adventurous side as we explore some of the thrilling attractions the city has to offer.
1. Skydiving at Chicagoland Skydiving Center:
Experience the ultimate adrenaline rush as you soar through the sky while skydiving at Chicagoland Skydiving Center. Feel the exhilaration as you jump out of a plane from thousands of feet above ground level. Capture breathtaking views of the cityscape as you freefall and then gently descend with a parachute. This heart-pounding adventure will leave you with memories to last a lifetime.
2. Rock Climbing at Brooklyn Boulders:
Challenge your physical and mental strength with indoor rock climbing at Brooklyn Boulders. With a variety of climbing walls suitable for all skill levels, you can push your limits and conquer new heights. Enhance your problem-solving abilities as you navigate different routes and obstacles. Whether you're a beginner or an experienced climber, this thrilling activity will test your skills and provide an unforgettable experience.
3. Kayaking on the Chicago River:
Embark on a scenic kayaking adventure on the iconic Chicago River. Paddle your way through the city's architectural wonders, enjoying breathtaking views of the skyline and landmarks such as the Willis Tower and Navy Pier. Explore the river's hidden gems as you navigate under bridges and past picturesque waterfront scenes. This tranquil yet invigorating activity allows you to connect with nature while exploring the heart of the city.
4. Biking along Lakefront Trail:
Rent a bike and cruise along the beautiful Lakefront Trail, a scenic route spanning 18 miles along the shores of Lake Michigan. Enjoy the fresh lake breeze as you pedal past green parks, sandy beaches, and iconic attractions like Millennium Park and the Museum Campus. With numerous bike rental stations along the trail, it's easy to embark on a thrilling biking adventure while taking in the stunning lakefront views.
5. Jet Skiing on Lake Michigan:
Feel the rush of adrenaline as you zoom across the waves of Lake Michigan on a jet ski. Rent a jet ski from one of the many rental facilities along the lakefront and experience the thrill of riding the waves. Enjoy the spectacular views of the city
10. Getting a Taste of Chicago's Nightlife
Chicago is not only famous for its stunning skyline and deep-dish pizza but also for its vibrant nightlife. When the sun sets, the city comes to life with a plethora of exciting entertainment options. Whether you're a party animal or someone who enjoys a more laid-back evening, Chicago has something for everyone. So put on your dancing shoes and get ready to experience the best of Chicago's nightlife.
1. Start with a Signature Cocktail (Keyword: signature cocktail)
Kickstart your night by indulging in a signature cocktail at one of Chicago's trendy bars. From classic martinis to innovative mixology creations, the city's mixologists are known for their creativity and craftsmanship. Visit renowned establishments like The Violet Hour or The Aviary, where you can enjoy expertly crafted cocktails in stylish and sophisticated settings.
2. Explore the Vibrant Neighborhoods (Keyword: vibrant neighborhoods)
Chicago's nightlife is not limited to a single area. The city is home to several diverse neighborhoods, each offering its own unique vibe. Head to Wicker Park for its hipster bars and live music venues, or visit River North for its upscale lounges and swanky nightclubs. Don't forget to explore the lively nightlife scenes in Lincoln Park, Logan Square, and West Loop as well. (Keyword: lively nightlife)
3. Dance the Night Away (Keyword: dance the night away)
If dancing is your thing, Chicago has a multitude of nightclubs where you can let loose and groove to the beats. The iconic Smart Bar in Wrigleyville is renowned for its electronic music events, while Sound-Bar in River North attracts top DJs from around the world. For a more intimate setting, check out The Whistler in Logan Square, which offers a blend of live music and DJ sets.
4. Catch Live Music Performances (Keyword: live music performances)
Chicago has a rich music history, and the city continues to be a hub for live performances. Whether you're into jazz, blues, rock, or indie music, there are plenty of venues where you can catch talented local and international artists. Don't miss the famous Chicago Symphony Orchestra at Symphony Center or enjoy a live jazz session at the legendary Green Mill Cocktail Lounge.
5. Experience Comedy Clubs (Keyword: comedy clubs)
Chicago is the birthplace of improv comedy, and its comedy clubs are bound to leave you in stitches. Visit The Second City, known for launching the careers of famous comedians
11. Uncovering Hidden Gems: Exploring Chicago's Neighborhoods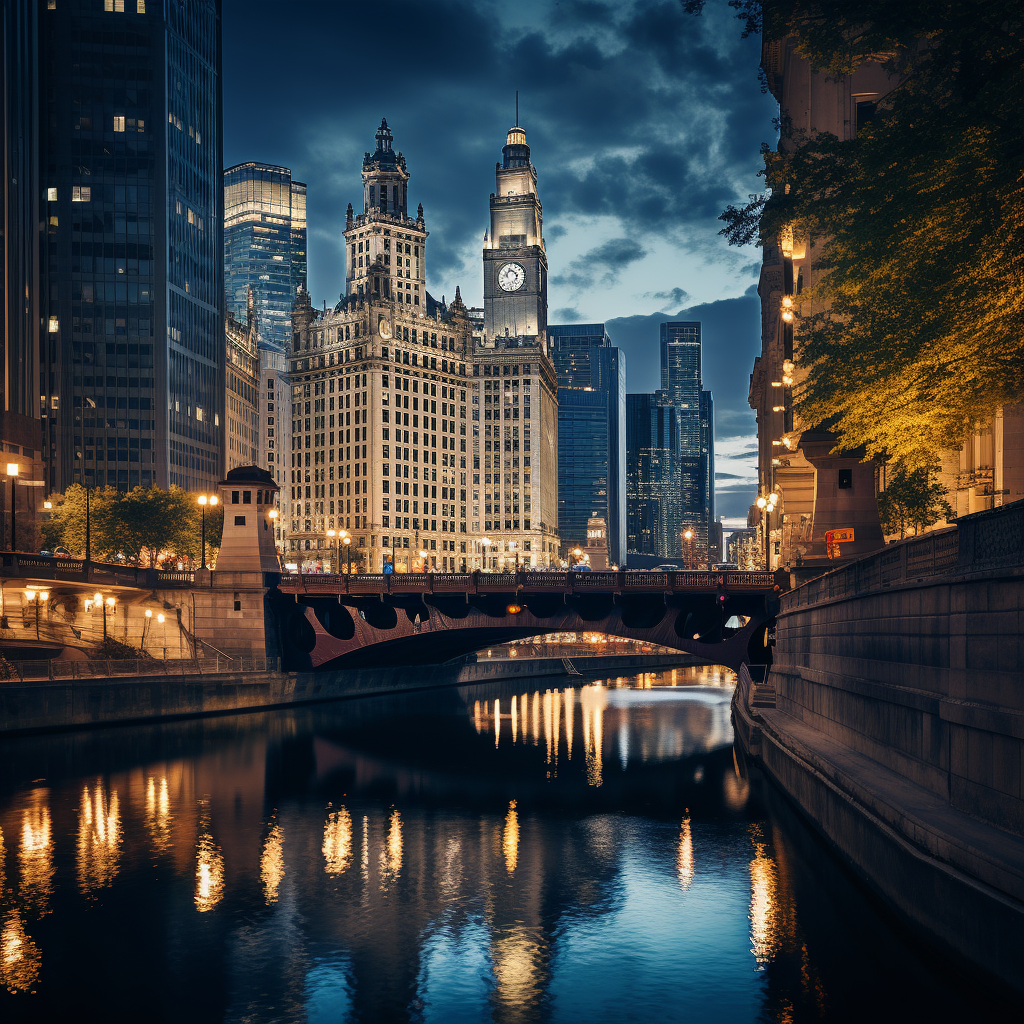 Chicago, the vibrant and diverse city known for its iconic skyline and deep-dish pizza, has much more to offer beyond its popular tourist attractions. Hidden within its neighborhoods are a plethora of unique and thrilling gems waiting to be discovered. If you're looking to unleash your adventurous side and delve into the lesser-known aspects of Chicago, exploring its neighborhoods will provide you with an unforgettable experience. Let's embark on a journey through some of Chicago's most captivating neighborhoods and uncover the hidden gems they hold.
1. Wicker Park: Where Art and Creativity Flourish
Wicker Park, with its bohemian atmosphere and artistic charm, is an ideal starting point for your neighborhood exploration. This creative hub boasts an abundance of art galleries, independent boutiques, and vintage stores. Lose yourself in the vibrant street art that adorns the walls, capturing the spirit of the community. Don't miss the chance to explore the bustling Wicker Park Farmer's Market, where you can indulge in local produce and artisanal treats.
2. Hyde Park: Intellectual Haven amidst Serene Surroundings
Home to the prestigious University of Chicago, Hyde Park exudes an intellectual aura that is complemented by its serene surroundings. Take a leisurely stroll through the idyllic Jackson Park, marvel at the stunning architecture of the historic Robie House, or immerse yourself in knowledge at the renowned Oriental Institute Museum. Hyde Park is a haven for bookworms, with the legendary Seminary Co-op Bookstore and the captivating Powell's Bookstore beckoning you to explore their shelves.
3. Pilsen: Celebrating Culture and Diversity
Step into Pilsen, a neighborhood that pulsates with vibrant murals, rich culture, and a strong sense of community. Known for its Mexican heritage, Pilsen invites you to experience its authentic cuisine, colorful street art, and vibrant festivals. Visit the National Museum of Mexican Art, where you can immerse yourself in a captivating display of Mexican art and culture. Don't forget to explore the 18th Street, lined with enticing cafes, art galleries, and small shops that showcase the neighborhood's unique character.
4. Andersonville: Quaint Charm and LGBTQ+ Pride
Escape to Andersonville, a charming neighborhood that embraces its LGBTQ+ community and exudes a welcoming spirit. Known for its eclectic mix of independent businesses, Andersonville is a haven for boutique shopping, cozy cafes, and lively bars. Ro
12. Making Memories at Chicago's Festivals and Events
Chicago is a city that knows how to celebrate, and its festivals and events are the perfect opportunities to make unforgettable memories. Whether you're a local or a tourist, there's always something exciting happening in this vibrant city. Get ready to immerse yourself in the energetic atmosphere and experience the diversity of Chicago's culture through its festivals and events.
1. The Taste of Chicago (Keyword: Taste of Chicago)
One of the most anticipated events in the city is the Taste of Chicago. This food extravaganza brings together some of the best restaurants, food trucks, and vendors, offering a culinary feast for visitors. Indulge in a wide array of cuisines, from deep-dish pizza to Chicago-style hot dogs, while enjoying live music performances and entertainment. Don't forget to bring your appetite because the options are endless!
2. Lollapalooza (Keyword: Lollapalooza)
Music lovers rejoice at Lollapalooza, a music festival that attracts renowned artists from around the world. Held in Grant Park, this four-day event is a paradise for music enthusiasts, featuring a diverse lineup of genres including rock, pop, hip-hop, and electronic music. Dance along with the crowd, sing your heart out, and create memories that will last a lifetime.
3. Chicago Air and Water Show (Keyword: Chicago Air and Water Show)
Take to the skies and witness jaw-dropping aerial performances at the Chicago Air and Water Show. This spectacle showcases exciting stunts performed by skilled aviators, including daredevil pilots and the renowned U.S. Navy Blue Angels. Marvel at the acrobatics in the air and be amazed as the show unfolds against the stunning backdrop of Lake Michigan.
4. Chicago Jazz Festival (Keyword: Chicago Jazz Festival)
For jazz enthusiasts, the Chicago Jazz Festival is an annual event that shouldn't be missed. This free festival celebrates the art of jazz, featuring talented musicians from across the globe. Sit back, relax, and let the soothing melodies transport you to a world of rhythm and soul. From traditional jazz to experimental sounds, there's something for every jazz lover to enjoy.
5. Christkindlmarket (Keyword: Christkindlmarket)
Get into the holiday spirit at the Christkindlmarket. This traditional German Christmas market brings a touch of European charm to Chicago's Daley Plaza. Explore the festive stalls filled with handmade crafts, ornaments, and delicious treats like brat
Conclusion
In conclusion, there is no shortage of thrilling attractions in Chicago for those seeking an adventure-filled experience. From the adrenaline rush of skydiving over the cityscape to the spine-tingling haunted tours, Chicago offers something for every adventure enthusiast. Don't miss the chance to test your limits at the Tilt at 360 Chicago, where you can lean out over the city from the 94th floor. For a more immersive experience, embark on a kayak tour along the Chicago River, taking in the stunning architecture while navigating the waterways. But the adventure doesn't end there. Dive into the depths of the Shedd Aquarium and get up close and personal with fascinating marine creatures. Or head to Navy Pier and hop on the exhilarating Ferris
FAQ
What are some common tourist mistakes in Chicago?
Some common tourist mistakes in Chicago include not doing enough research before visiting, not packing appropriately, and not knowing where to go.
What are some of the best attractions in Chicago?
Some of the best attractions in Chicago include Navy Pier, Millennium Park, the Field Museum of Natural History, the Shedd Aquarium, the Willis Tower, and Lincoln Park Zoo.
How do I get tickets to attractions in Chicago?
To purchase tickets to attractions in Chicago, visit the official website of the attraction or call the number listed on the attraction's sign. Some attractions also have official ticketing partners who offer discounted rates.
How do I find out about events happening in Chicago?
To find out about Chicago events, check out the website of the Chicago Tribune or the Chicago Sun-Times. You can also search online for events by topic or by date.
What are some tips for exploring Chicago?
Some tips for exploring Chicago: Plan your visit ahead of time and use the city's online tour services to get a jump on the crowds. Head to popular tourist spots like Millennium Park, Navy Pier, and the Magnificent Mile. Take a walk on the wild side and explore some of Chicago's lesser-known neighborhoods. Spend an afternoon or evening at one of the city's world-renowned theaters. Sample some of Chicago's famed cuisine at one of the city's many restaurants.
What should I wear when I visit Chicago?
When you visit Chicago, make sure to pack your adventure hat! Here are some of the city's most thrilling attractions that will have you exploring like never before: Millennium Park: This massive park features a dazzling array of sculptures, gardens and exhibits, like the iconic Cloud Gate sculpture. Navy Pier: This iconic pier is home to an amusement park, a movie theater and more. Lincoln Park: This lush green space is home to the world's largest collection of cherry trees, as well as a lake and plenty of trails for a hike. Chinatown: This vibrant district is home to some of Chicago's oldest businesses and most iconic landmarks, like the Gilded Age buildings of the Oriental Hotel.
Other Websites by System Ent Corp:
https://eyeofunity.com
https://meteyeverse.com
https://000arcade.com
https://00arcade.com
https://albertbrain.com
https://lastdaystore.com
https://wealth-financing.com
https://techgenstore.com
https://systementcorp.com
https://controlsecret.com
https://realufopics.com
https://officialmikemc.com
https://keyselfdefense.com
https://ashleymega.com
https://findwebcost.com